During this workshop we will produce a series of decorative papers to use in 2 & 3D projects. Students must be willing to experiment during this workshop in which emphasis is placed on combining materials and techniques in a creative way.
Thermofax screens, stencils and self made stamps will be used with textile glue/transfer foils, puff paste, paint and Markal sticks, to explore the use of line, colour and pattern.
Texture will be added to the papers with an embossing technique and enriched with hand & machine stitchery.
Small collages will be made and we will consider how these results can be used in quilts.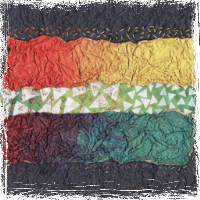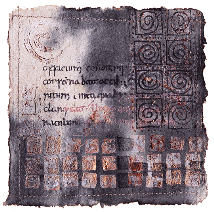 Text & Texture
'Text and Texture' will be explored using a variety of new media with surface design techniques. We will work on both hard and soft surfaces, including papers, fabrics and metals. Thermofax screens will be used for printing texts. Pattern making will be explored with stamping, layering diverse media plays an important role in this process. Complex surfaces and depth are created when working layer upon layer. Extra texture can be added with stitching.
This workshop offers an opportunity to work with some of the newest media, such as puff paste, transfer foils & transfer glue, discharge paste and embossing powders.
Evolon
Evolon® is an eco-friendly spun bond fabric originally used in the medical sector. It is strong, soft and is a breathable fabric. At this moment, there are 2 qualities available, Evolon Original and Evolon Soft. This workshop offers the opportunity to work with heat transfer; layering colour and texture with transfer paints and crayons. Figurative elements and text will be added with students personal collection of laser copies. Attention will be paid to content and composition, using copies of images from students' personal photo collections and favourite writings. Due to it's special qualities, Evolon is extremely suitable for use in quilts and clothing.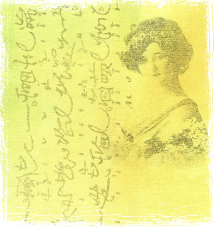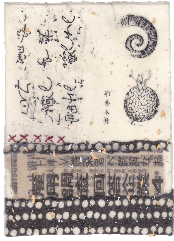 Small Encaustic Collages
During this workshop we will make small encaustic collages on a heated palette.We will use water colour paper as a base on which to build translucent layers of thinner papers, such as serviettes, printed Tissuetex and silk paper.We will work both in black and white and colour. Figurative elements will be added with photo transfer. Finer details will be added to the surface with various media.

The aim is to produce a series of collages based on a personal theme

Rusting the Surface
In this workshop we will explore the possibilities of working with rusting powder, which is a quicker and more controlled method than the traditional rusting process.We will rust on cotton, silk and paper and use a selection of surface design techniques to achieve a variety of effects. We will add highlights to the surfaces with transfer foils and gilding flakes.
Fabrics produced in this class are suitable for use in quilt, fashion & embroidery projects.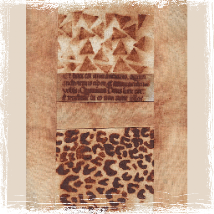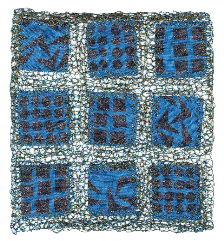 Creating Cloth
In this workshop we will explore creating lacy effects with fabrics and threads; working with a selection of water soluble films in combination with the free motion machine embroidery. A wide variety of effects can be achieved depending on the fabrics and threads used.

We will begin the workshop creating Lacy Patchwork – stamping a selection of cotton fabrics and joining pieces with machine stitching in combination with water soluble film. We will explore fine gossamer effects with organza, silk and machine embroidery thread. Thicker, more robust effects can be achieved combining fantasy (knitting) threads and fabrics.
We will consider how these effects can be used in quilt, fashion and embroidery projects.
Folds, Rolls, & Scrolls
During this class we will explore fun ways of creating book objects. Discarded and recycled paper which we take for granted in our daily lives, will be transformed into a collection of unusual, exotic and colourful materials.

Combining and layering mixed media, distressing and manipulating add extra dimensions to the surface.
Simple construction methods such as rolls and scrolls, layering, stacking and repeating elements will be used to create exciting book objects.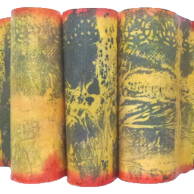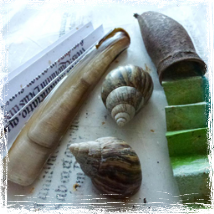 Cover to Cover
In this workshop we will be looking at experimental and surprising ways of creating books. Redefining the 'Cover' and looking at different ways of book presentation.
Making use of objects which are readily available, such as small cardboard boxes and containers, as well as natural objects such as seedpods and shells.We will consider the form the content (pages) will take on, reflecting the 'container' or 'support' we choose to work from.
Both paper and fabric will be used in this process.
We will use paint and dyes for colour and enrich surfaces with mixed media and collage. Stitch can also be used for mark making and decoration.