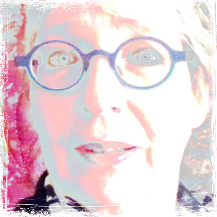 English born Cherilyn Martin is an Embroidery/Textiles graduate from Manchester Metropolitan University. Further studies in Art Education at Bristol University completed her formal education. She currently resides in the Netherlands, working as a practising artist and teacher.

Having worked with fabric and stitch for many years, Cherilyn now enjoys the challenges paper and mixed media offer.
She is intrigued by the mysterious world of cave temples, underground mining systems and abandoned graveyards which bare marks left by man and the elements.
Recording both man's presence and passing has led her to explore themes of bereavement and commemoration, often using paper to emphasize the fragility of life. She continues to explore surface, pushing the boundaries of materials and techniques to create complex surfaces with hidden meanings.