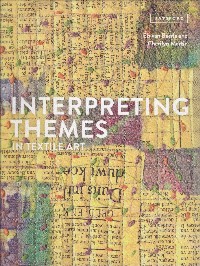 Released in August 2017
Interpreting Themes in Textile Art
Two textile artists.
Two personal interpretations of the same creative themes.
One inspiring book that showcases it all.
Mutual respect between artists can have a positive effect—as renowned textile artists Els van Baarle and Cherilyn Martin discovered. Even though they both have individual approaches to shape, form, color, and technique, their shared interest in the same topics has united them for 25 years. And, often, they inspire each other. Interpreting Themes in Textile Art shows what happens when two talented creators start from the same point, but then draw on their own experiences. Els and Cherilyn have chosen six themes to explore: Memory, Graven (cemetery) images and idols; Books as Objects; Pompeii and Archeological Excavations; Walls; and Everyday Items. In addition to beautiful photos of the finished projects, both artists provide personal interpretations of each theme, a description of their techniques, step-by-step instructions, and advice on getting the most from your collaborations.